hey guys,

i lurk here rather frequently, but i am not into posting all that much. i figured that i would today, though, since my horse is very much on my mind right now!

3 years ago, my partner announced that she wanted to buy property that would have acreage, so i could make my dream of owning a horse come true. this started a frantic search for the "perfect first horse!"

at the time, i was significantly overweight (i'd struggled with obesity my entire life)...probably about 230 pounds at the time, but i read that a horse can safely carry 20-30% of its own weight.

after seeing several horses, one little sorrel captured my heart. you see, for me, it's not about looks, it's not about performance. i am just your average girl who likes to be in the presence of a horse, who finds the smell of horse sweat, leather and shavings nothing short of entrancing...and the most i do is bum around or trail ride. nothing fancy. this boy had soulful eyes that just reached in and stole my soul. he was one of those horses that just LOVED being loved on. he'll stand there all day for kisses and strokes along his nose. he's just that kind of horse. i rode him a few times and we seemed compatible.

i was told he was 12, an ex barrel racer. his name had previously been "speedy, " but his owner, a young college student, renamed him, "louie." she was selling him because her interests had changed to her new car and to boys. louie had a bad skin infection when i first met him and he was also about 150 pounds underweight. he lived with another horse...a large bully named, "legs." the girls would feed both horses in their stalls, but leave the stall doors open. so, legs would scarf down his food and then chase louie out of his stall and eat his too!

i had a vet come out and do a pre-purchase exam. louie passed reasonably well. some minor soundess issues were noted, x-rays were taken (but came up clean)...etc. i expressed to my vet that my primary concern was my weight and he told me for what i was planning to do...bum around and occasionally trail ride, he'd be a perfect first horse. he told me he estimated louie's age to be 14.

my partner then realized there was no way we could afford "horse property" in our area and i had to do full board. i live in palm beach county,florida...very close to wellington (which i am sure most of you have heard of or probably even been to!) so, land is limited her and board is extremely outrageous...we are talking like $700-$1200 for full board. so almost ALL of my income goes directly to my horse!

when i had louie's teeth floated by an extremely well-known and respected equine dentist/veterinarian, the doctor asked me how old i thought the horse was...i said, 15 or 16? he looked at me with a shocked expression on his face and said, "no. i don't think so." i asked him how old he thought louie was and he said rather quietly, "i don't want to tell you." i said, "what? like 20?" he said..."yeah, i guess you can say that." when i heard this i was heartbroken...i thought, oh my goodness, i may only have this guy in my life for a few years! but, i've come to peace with the fact that he is older.

louie has a lip tattoo that is barely readable. i've tried researching it with AQHA, but the numbers I could guess at didn't match any horse in their database. it is not in the format of a thoroughbred tattoo or a standardbred. i wish i could track it down because it would be nice to know his real "breed" and "history" and "age." but, really no matter who he is, what he is or how old he is...i will still love him.

i stopped riding louie for the most part because unfortunately, my weight began to climb drastically. at my highest weight, i topped the scales at 295 pounds! i simply did not feel it was fair to ask him to carry my weight. my saddle was a 19 inch western saddle. riding was a real production...especially mounting and dismounting. in august 2007, i had weight loss surgery. it was a difficult decision to come by and not one easily made. i had gotten to the point where i could no longer walk due to incredible pain from heel spurs. i had to ride in an electric scooter at grocery stores because i could no longer walk up and down the aisles. i had a surgery that is still considered "investigational." it's called a "vertical sleeve gastrectomy." basically, i have 80% of my stomach removed...and i am left with a 3 ounce capacity. the remaining stomach is in the shape of a banana and about the size of a cigar. i had a very difficult recovery. i was nauseous and SICK for 3 months straight. i barely, if ever, saw my horse during that time. i was hospitalized 3 times for dehydration and naseau.

i have since lost 169 pounds...and i now weight 126 pounds. the comfort and well-being of my 20'something horse has really helped to spur me into action. now i can ride him without feeling guilty. we both enjoy our rides more. i feel stronger, more confident and more capable on his back. our relationship is constantly blossoming even more!


this is a before/after picture of louie...




this was taken when i rode him on my trial ride! you can see the saddle was WAY too small and i was pretty darn heavy at the time, though not nearly at my heaviest weight.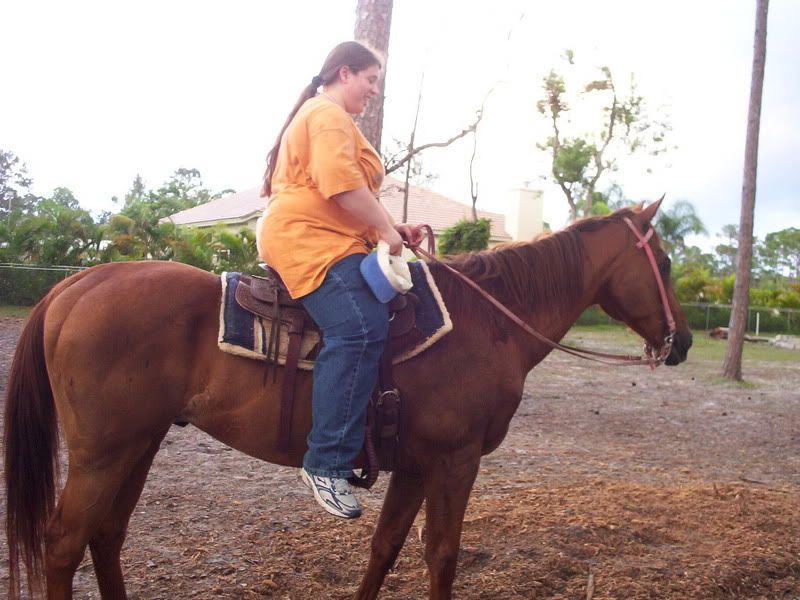 my boy being super cute. i was in my car getting some ac...and he stuck his face in the open window.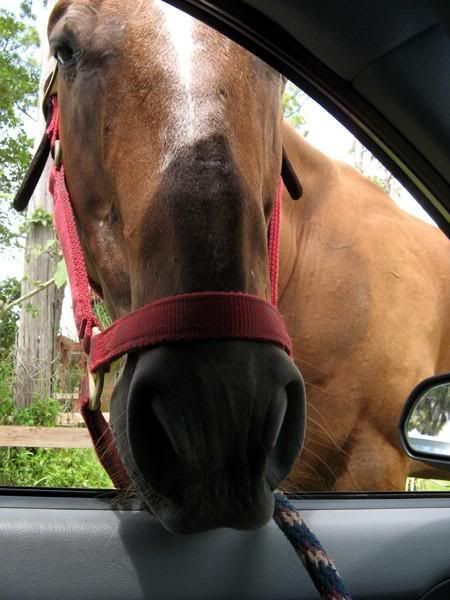 drying off after an awesome bath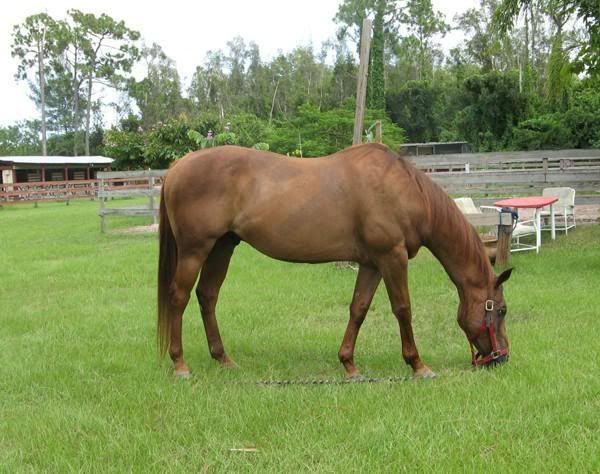 riding bareback! (as a sidenote...this day was the first day i had fallen off of him in my 3 years of having him! we were riding alongside another horse and he decided to bite the other horse. it happened really quickly and louie is NOT a biter...but for some reason, he just got a stick up his you-know-what and tried. he didn't make contact. right about the same time, the barn owner was moving a sheet of styrofome (sp?) insulation and it made a loud squeak. both horses shied in opposite directions and we all went tumbling down. i actually consider the fall a good thing, since i had actually considered hopping on without my helmet that day! it's important to realize that horses and horses and even the most bomb-proof horsies will still occasionally spaz out!)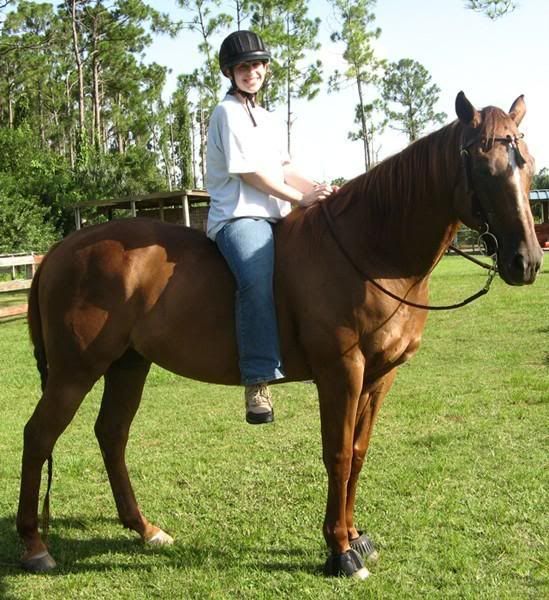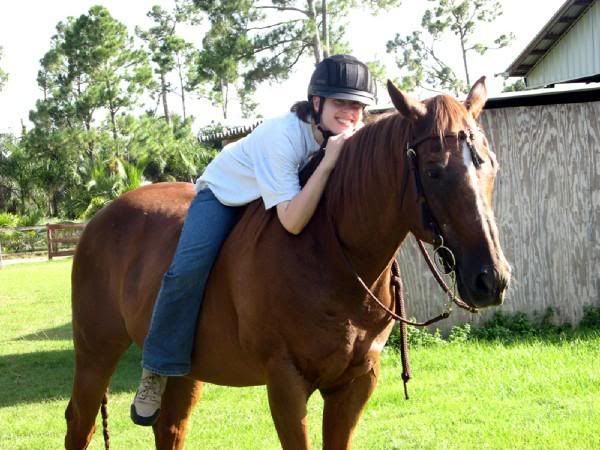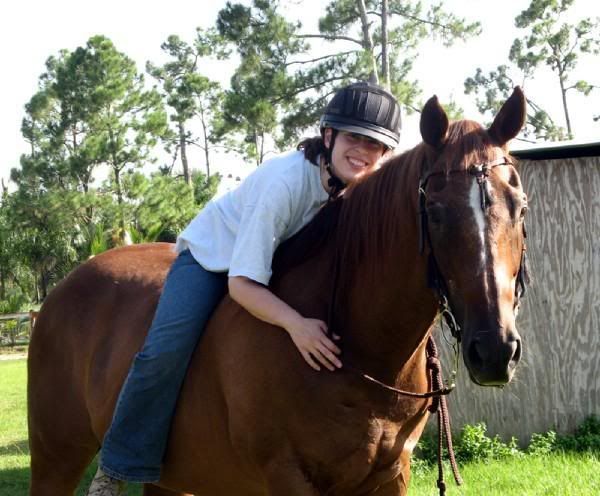 these are from yesterday. i took him on a trail ride, which was being done to benefit pure thoughts rescue. they are a local organization, responsible for saving over 500 horses! recently, they managed to outbid killbuyers at an auction. they bought the entire group of nearly 200 horses. this was a HUGE save! if anyone is interested in learning about pure thoughts and possibly donating or sponsoring a horse, i encourage you to check out their website,pure thoughts !